Hey.
The new trailer for Solo: A Star Wars Story has been released. HAVE YOU SEEN IT?
It's pretty great right?!
Look, I wasn't exactly a huge fan of the idea of a young Han Solo film. When it was first announced I often made jokes at its expense because I was skeptical and refused to think that anyone could fill Harrison Ford's shoes. Not only is it a huge task to fulfill but as a Star Wars fan, it's difficult for me to pretend that this is the same Han Solo we eventually see in the original trilogy and The Force Awakens.
That was my main complaint for a long time. Deep down I was afraid this movie would be the beginning of the end for Lucasfilm and perhaps the movie that makes fans second guess the anthology films as a whole. I was wrong. Every Star Wars film, no matter what, is going to be subjected to scrutiny. Not all Star Wars fans are going to love every film that gets released and we're just going to have to deal with it and move on.
Now, let's get down to business…
I loved everything I saw in this trailer, starting with Lando Glover. Er, I mean Donald Calrissian. I MEAN Donald "Lando Calrissian" Glover.
He was my favorite casting pick during pre-production and one that I never worried about, not even once. Glover is perfect in my opinion and I believe he will bring justice to the character once played by the great Billy Dee Williams.
Another thing I loved was the music. It immediately reminded me of the Tron soundtrack and I am here for it. I doubt they will use that piece in the actual movie, but I can only hope they try and do something unique and different than the previous films. As much as I love John Williams (and I really, really do), I want a new take on the classic themes, is that too much to ask for?
The cinematography is gorgeous. Solo is similar to Rogue One in that it sets the tone for the time period. I like these bleak filters they're using for these standalone films. It not only sets them apart from the Skywalker saga but gives the era between Revenge of the Sith and A New Hope a realistic gritty tone.
One thing is for sure. Solo's costume game is strong.
Everyone in this movie has either a badass cape or a badass coat. Like, I'm practically sitting here waiting for Her Universe to start releasing all these Solo inspired clothing pieces because seriously I need them. (Oh, and faux fur/leather obviously.)
Lastly, young Han Solo.
I can't confidently say "I love what Alden's doing and think he's going to be great." I will never let my guard down like that. I will say that while he doesn't sound like the Han Solo we know and love (no, I wasn't expecting him to) I can see that he's trying his best. His facial expressions and manner of speaking, especially at the end, were more than enough to get me excited. For a moment there, my suspension of disbelief kicked in and I was actually imagining him as YOUNG HAN SOLO.
Can you believe it?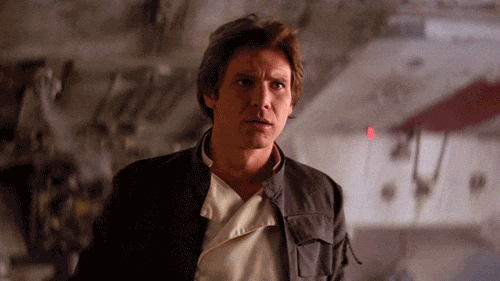 Alden Ehrenreich knows how tough the role is and I'd rather give my opinion when the film is out and I've seen it from start to finish. I'm excited. I'm really excited. After Rogue One and The Last Jedi, I look forward to Star Wars films that feel different and take me out of my comfort zone. Bring it, Solo.
BONUS:
These posters are to die for. I want them all.
All photos and gifs are courtesy of Lucasfilm and StarWars.com.
What were your favorite moments from the Solo: A Star Wars Story trailer? Please comment below or tweet me all your thoughts @JediLore!