Star Wars Rebels is over. It's the end of an era.
The first season of Rebels was one of our earliest glimpses into the galaxy far, far away after the Disney acquisition of Lucasfilm. Many were hesitant about the show post-Clone Wars (me), but with Dave Filoni at the helm it quickly earned many fans' respects.
Over the last four years we have been introduced to several characters across the galaxy and many unique qualities about the force that none of us would have ever believed. If you think The Last Jedi was weird, watch Star Wars Rebels. The series finale aired last night on Disney XD and I wanted to share my thoughts about the ending of this show that initially, I had very little faith in.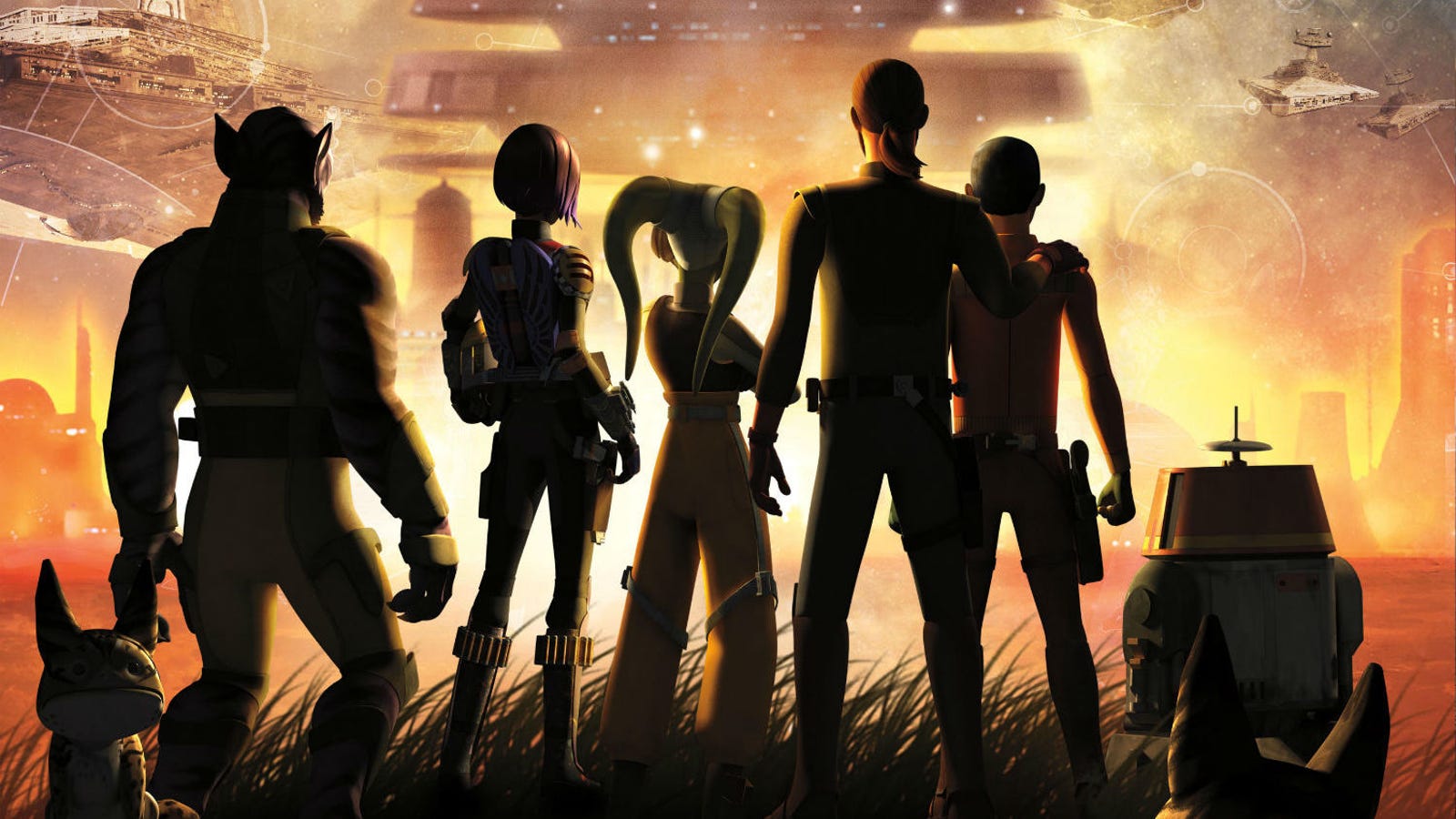 Basically, I loved it. I loved the finale. I loved that in the end, our ragtag crew of rebels made it out alive.
Well, for the most part.
We lost Kanan in "Jedi Knight" after he sacrificed himself to save the family that he loved, who he knew would continue the fight against the Empire. It was tragic, beautifully done, and a necessary loss. As for Ezra, I honestly cannot imagine where he'd be and if Thrawn is alive or not. I will probably have to listen to a few podcasts and read a few theories before I make any assumptions. Zeb and Kallus live happily ever after on Lira San and probably adopt a few lasats (wishful thinking). Hera turned out to be pregnant, which I would NEVER have predicted and ended up giving birth to a baby boy named Jacen (yes, Jacen). Jacen Syndulla.
Sabine narrates everyone's lives from the liberation of Lothal to after the Battle of Endor, which was another surprise! Everyone expected Rebels to end before Rogue One or possibly after the Battle of Yavin. I absolutely love that Hera, Sabine, Zeb, and Chopper survived the original trilogy. I didn't expect it, but I should have. Sabine then goes on to say that she along with Ahsoka Tano (AHSOKA LIVES) will fulfill the promises they made to Ezra to find him and bring him home.
I'm dead.
First of all, Ahsoka Tano is a fucking legend. I am in love with her story even though it's shrouded in mystery. I honestly think that's probably what makes me love her even more. Yes, there is a small part of me that wants to ask, "well, where was she during this event or what about this infamous Yoda quote about Luke being the last Jedi?" I get it. However, Ahsoka isn't a Jedi anymore and Luke is the only one who could have redeemed Vader, end of story.
Jacen Syndulla is my new favorite conspiracy theory. Who does he grow up to be? Where do his allegiances lie? They obviously were inspired by the EU to use the name Jacen. Why Jacen? Hmm? Anyways, I'm happy that Hera was able to have a living memory of her love for Kanan and it looks like she's teaching him the ways of space piloting, which is so sweet.
Ezra is the heart of this show. I will admit that I didn't care for him until the very last episodes because I couldn't relate with him on a personal level. He is a teenage boy growing up under incredibly difficult circumstances. While I still don't quite relate with him, I do sympathize and saw that in the last few episodes he really grew up and became the leader and light that everyone needed in those dark times. He made the decision to sacrifice himself not knowing where he'd end up, so that he could liberate his home planet and save his family. Just thinking about his last words make me teary-eyed. I hope Sabine and Ahsoka do find him and I hope we get to see that in a future show or film one day.
Thank you to Dave Filoni and the entire cast and crew of Star Wars Rebels. The show is over, but the Ghost crew will never be forgotten.
Featured image from StarWars.com & Lucasfilm.